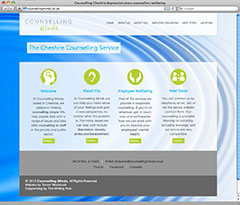 Counselling Minds, based in Cheshire, aims to make "counselling simple".
It was therefore crucial for their website content to reflect this ethos.
Step forward The Writing Hub.
I joined forces with web and print designer Simon Warbrook to produce a visually appealing, clean website with clear, concise copywriting ‒ and no jargon.
The focus throughout was to explain how Counselling Minds can help people seeking support regarding issues such as depression, bereavement and addictive behaviours.
The website also includes a page talking about another of Counselling Minds' services ‒ counselling for staff in the private and public sector.
A great result and I look forward to more work of a similar nature.